About
About Us
Founded in 1902 in the Nishijin district of Kyoto,
Fukuoka Weaving produces Yusoku-monyou pattern Obi, Jūnihitoe Kimono,
and custom-made Nishijin-ori textiles.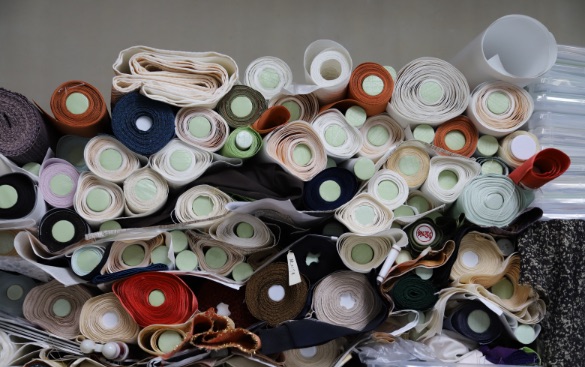 Kyoto Nishijin Fukuoka workshop is in charge of the whole textile production process, from design to dyeing to weaving.
We are the only weaver in Nishijin district capable of full-custom textiles.
All custom-made textiles are issued with a Nishijin-ori certificate from the Nishijin Textile Industry Association to ensure its quality and authenticity.
Message from our President
The streets of Nishijin District are filled with "kasha-kasha" sound coming from the weaving machines. Jacquard looms, which weave our Nishijin-ori textiles, were invented by the French weaver Joseph-Marie Jacquard. Our founder, Kinjiro Fukuoka, was the first weaver in the Nishijin district to implement these machines for Nishijin-ori textiles during the Taisho period.

Nishijin district has a long history of creating Jūnihitoe Kimonos, dresses, and formal attire for the imperial court and the noble class. With the implementation of Jacquard loom, productivity significantly rose and this delicate, high-class textiles gained a wider audience.

In recent years, the number of Nishijin-ori craftsmen has been decreasing. We are tackling this by training young craftsmen to pass on the traditions. We are also expanding our capabilities by creating new materials such as industrial carbon fiber textiles, developing textile products, and providing technical assistance to artists.

Fukuoka Weaving seeks new challenges, just like our founder who was the first person in his generation to incorporate Jacquard machines into Nishijin textiles.
Fukuoka Weaving Ltd.
4th Generation
– President and CEO, Certified Traditional Craftsman
Hironori Fukuoka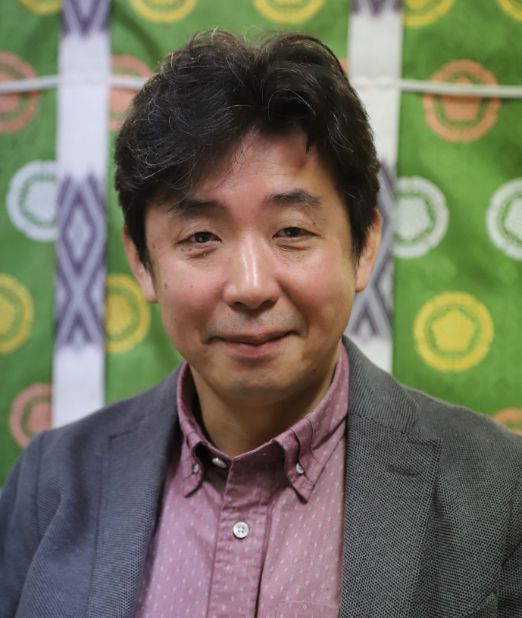 Going out in a kimono feels great.
Your posture naturally become elegant, and the surrounding atmosphere brightens up.
I still remember how fun it was going out with a kimono for the first time to watch Miyako Odori and Kitano Odori.
Fukuoka Weaving creates Obi and Junihitoe kimonos with Yusoku-monyou patterns. People say our Obi is comfortable because it is light and easy to use.

I believe kimono makes Japanese women look the most beautiful.
My interest of kimono emerged after I started helping my husband who is a Certified Traditional Craftsman. Through learning about kimono and traditional industry, I began to feel passionate about passing the beautiful Nishijin-ori to the next generation by raising awareness and training craftsman.
My current mission is to spread Nishijin-ori to the world.

At our workshop, you can see the process of Obi weaving. We will provide explanation on Nishijin-ori, traditional techniques, and kimono.
Nothing would make me happier than to help people dress up beautifully with kimonos.
Please come visit our Kyoto Nishijin Fukuoka workshop.
Fukuoka Weaving
4th Generation
– Founder
Tokiko Fukuoka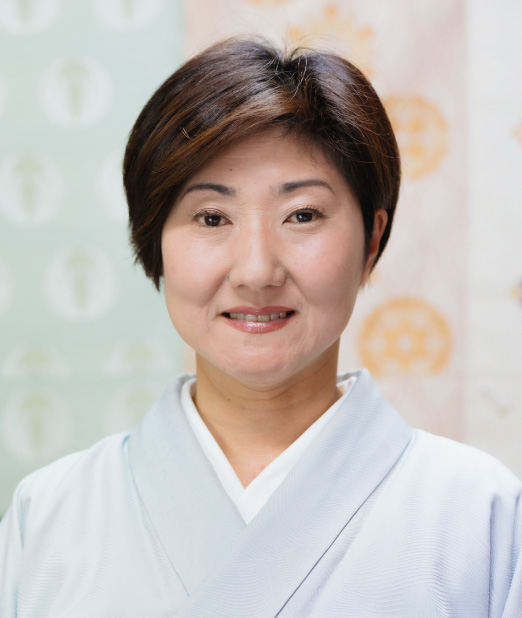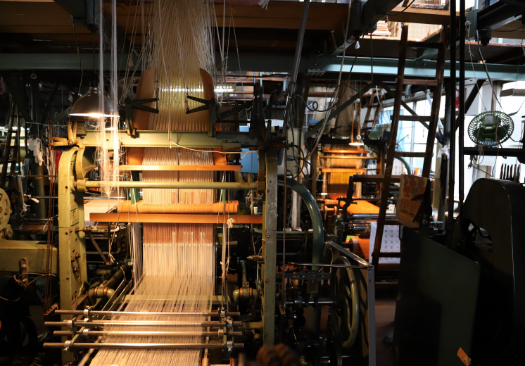 See how the textiles are created by our Nishijin craftsmen.
On our workshop tours, you can see our craftsmen creating Obi with Jacquard looms, sketching design ideas, dyeing threads, and more.
Workshops tours are appointment only. Please book a date via the inquiry form below.